Leavenworth, Washington
Best known for its annual Christmas festival held throughout the month of December, this Bavarian-style village located on the east side of the Cascade Mountains gives off quaint and cozy winter vibes all season long.
Jackson Hole, Wyoming
This bright star in the western firmament has about everything a winter traveler could want: a thrilling ski resort (in spite of its past reputation as an experts-only hill, lots of intermediate and groomed runs have opened for the rest of us), great food (go high and splurge on a meal at The Kitchen or snag some spicy takeout at Teton Thai), and plenty of activities for non-skiers (say ahhh to a spa day or take a winter snowcoach tour of Grand Teton National Park to see snowy bison).
North Adams, Massachusetts
Since the opening of the Massachusetts Museum of Contemporary Art in 1999 (the largest in the U.S.), this hamlet in the Berkshires has reinvented itself as a cultural haven for artists and tourists alike, with cafes, galleries, bookshops, and more. Book a stay at the Porches Inn, a boutique hotel housed in a quaint collection of Victorian row houses.
Warren and Waitsfield, Vermont
Mad River Glen not only sounds crazy great, it pretty much is crazy great. Surrounded by country roads and long vistas, this is the ski mountain that the industrial resort complex forgot. Or couldn't get to: instead the mountain operations are owned by a cooperative of Yankee skiers, determined to keep out the glamour. What you'll find instead are spectacular ski runs and little Warren and Waitsfield, the kind of quaint New England towns—a general store and a covered bridge, for goodness sake!— that Disney uses for inspiration.
Taos, New Mexico
One of the many reasons families love skiing at Taos Ski Valley is that around half of the runs are rated blue or green so even with all that steep terrain and fresh powder, beginning and intermediate skiers get some variety. One of the other attractions is the scenic town of Taos itself with traditional adobe architecture and inviting alleyways lined with its art galleries, cafés and shops. The area's rich culture—the extraordinarily beautiful Taos Pueblo and the much-photographed church at Rancho de Taos—is a year-round draw but the intoxicating perfume of piñon wood smoke is distinctly a cold-weather treat.
Lake Tahoe, California and Nevada
While it's technically a region and not a single town, the Lake Tahoe area is still a magical winter destination. Some people come for the skiing (there's lots of it: Northstar, Heavenly, Homewood, Squaw Valley, Kirkwood), some people come for the gambling or outlet shopping, or to snowshoe, or even take to the ice at an elevation of 8,200 feet at the Olympic complex in Squaw Valley. What's the unifying experience for all these diverse people? Pausing, gratefully, to take in the view of the impossibly blue lake surrounded by snowy, pine-tree-studded slopes. Divine.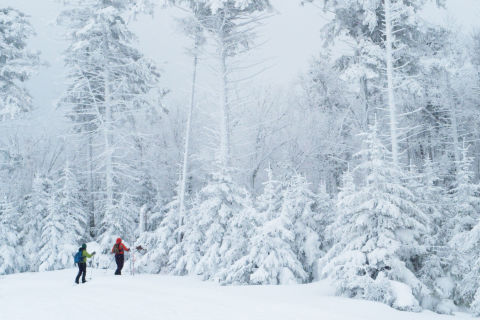 Canaan Valley, West Virginia
Legend has it that a bunch of snow-starved Washington D.C. residents overheard airline pilots discussing one mountainside in the region that stayed snowy all winter. This eavesdropping lead them on a hunt for the mysterious location, which was Canaan Valley in the Allegheny Mountains, an area dotted by waterfalls and backcountry trails. Now a state park, Canaan Valley (pronounced Kuh-NAYN) has a sprawling resort area that offers seasonal skiing, snow-tubing, sledding, Nordic ski trails as well as hotels, cabin rentals, shops and restaurants scattered through the valley and in ­nearby Davis. Get on top of the slopes and get a load of the 360-degree spectacular panorama of rolling hills.
Bozeman, Montana
Cross a college town with a ski town and sprinkle in some wild, wild west flavor and you'll end up with lovely Bozeman. Bridger Bowl and Big Sky resorts provide the enduring thrill of Montana powder while in town you'll find international cuisine, an independent bookshop with sofas, and a booming art scene. Just a couple of hours south, you can even sneak a peek at the only corner of Yellowstone, a particularly magical one, that remains accessible to cars all winter.
Bend, Oregon
Spend the day skiing Mount Bachelor and the evening sampling local beer at one of the Bend's 22 craft breweries or exploring a town full of boutiques and serious galleries and lots of good food. When you want to get outside, you'll have some choices. There's skiing, of course, both downhill and cross-country. Plus the trails that intrigue hikers all summer are perfect for snowshoeing (day and night—there are nighttime snowshoe tours through the forest that end at a roaring bonfire). You can mush behind a dog team or you can even eschew the snow and head to the nearby desert or go spelunking. Bend lets you count the ways to enjoy winter.
Park City, Utah
Park City has managed to incorporate the outdoor life right into its downtown: skiers can grab the lift right in town to head up the mountain. There are three local ski resorts as well as the Olympic Park complex where you can use the facilities left over from the 2002 Winter Olympics: Skate, tube (on the steep ski jump!), and zip line down the mountain along the cables that held the lifts. You can also watch Olympic hopefuls from around the world training. Off the slopes, the town's western charm plays out in the architecture and down-to-earth friendliness, even if you can detect the glitz left over from the town's annual Sundance Film Festival.
Source
http://countryliving.com/life/travel/g3832/best-winter-vacation-spots-in-america/